Guernsey cider company in second sheep trial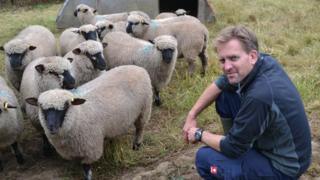 A Guernsey cider company is making a second attempt to graze sheep in its orchard - after the previous flock started chewing on the trees.
Rocquette Cider Company's owner James Meller wants to use sheep to help manage the orchard's grass.
Sixteen Shropshire sheep, which are less interested in apple trees than their predecessors, are being trialled.
The 15 ewes and one ram are the same breed as those bought by Prince Charles for use in his orchards, he added.
The company has 15 acres (six hectares) of apple trees and five acres (2 hectares) of pasture spread across the Castel and St Andrew.
Mr Meller said: "We've tried sheep before... they took a liking to the trees so they would start chewing on the main stem of the tree, which is the particular part we don't want them to eat. If they ate the odd leaf here or there that's obviously not critical.
"These Shropshire sheep are known not to be interested in apple trees.
"We haven't got a sheep dog so we're hoping to tame them to follow us.
"We'd need to build the flock up to 50-60 sheep to manage the whole area... and at that point we'd have another crop as well a meat crop."
He said if the trial did not succeed it would be "a costly experiment and a massive disappointment".