Guernsey Footes Lane abandoned cars targeted by fine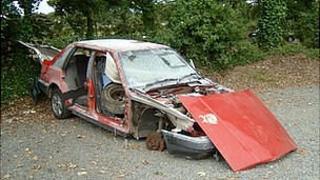 A move to introduce parking fines at Guernsey's main sports ground aims to cut problems with abandoned vehicles in the area.
The Culture and Leisure Department has asked for permission to make the area Terre a L'Amende, enabling those who park overnight to be fined £50.
As well as vehicles being abandoned, there have been acts of vandalism and fly tipping at Footes Lane.
The application will be considered by the Royal Court.
'Unsightly mess'
The area is used by those competing in and watching football, rugby, hockey and athletics.
It is also used for hosting events and the car park is used by students from the nearby Grammar School.
A department spokesman said: ''These vehicles are not only an unsightly mess - they could in some cases also be a hazard.
"A large amount of time is spent trying to contact owners of these vehicles and arranging for their removal."
He said when the vehicle's owner had left the island it meant the department footing the bill for the dumping charge.
The spokesman said by targeting those who parked overnight, the move should not impact the "genuine short‐term users" such as the students.
He said a similar move at Beau Sejour Leisure Centre, under different legislation, had seen the problems drop by about 90%.