Guernsey health service 'needs change of culture'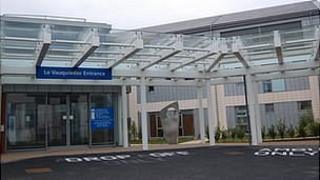 A review of the financial management of Guernsey's Health and Social Services Department (HSSD) has called for a "change of culture".
The critical review was commissioned by Mike Brown, the States chief executive, after an overspend of £2.2m in 2012.
Fourteen recommendations have been made in the report, which highlighted inertia in financial forecasting and flawed budgeting.
Both HSSD and Treasury and Resources welcomed the review.
The review was put together by specialist health consultants Finnamore, following interviews with several senior civil servants, including the States' treasurer, the department's chief officer and its director of finance.
It identified "the belief that health and social care costs are driven by demand for services that cannot be controlled or forecast", leading to "a lack of will to control expenditure".
'Lack of will'
It also highlighted "a flawed approach to zero-based budgeting [which] raised expectations" and "a lack of authority or empowerment for control within the department".
The review has revealed that no information on workforce numbers, clinical activity or performance indicators was included in board reports.
The main focus of the review was on the financial management during 2012.
However, the review also looked at attempts made in 2013 to address the problems, following the election of a new political board in December, 2012.
A Financial Management Improvement Plan (FMIP) was developed but the review found progress with its implementation had been mixed.
It said there had been "clear improvements already in the monthly reporting process and in documenting financial processes and controls".
However, it said the introduction of the centralised payments system SAP was "causing mistrust of the financial information and distracting from the real challenges of financial management".
A "lack of delivery" on the States-wide efficiency drive known as the Financial Transformation Programme was also identified, along with a "lack of a clear plan to address potential overspending again in 2013".
HSSD said it supported the 14 recommendations.
Deputy Minister Martin Storey said: "This report is important in helping to further understand what the issues have been and to ensure that actions are taken to deal with those issues."
Deputy Gavin St Pier, the Treasury and Resources Minister, said the report was "evidence that HSSD's financial challenges go beyond simply increased demand for its services".
"It is vital that Guernsey's biggest-spending department puts in place an effective framework for financial management and this report will play an important role in achieving that," he said.
However, he emphasised that the review needed to be seen as the start of a process, rather than a conclusion, as the recommendations were applicable to other States departments.
The report cost £21,000.