Guernsey-Jersey swimmer pulls out with hypothermia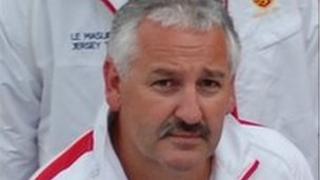 A man was left unconscious by hypothermia during an attempt to swim between Guernsey and Jersey.
Neil Faudemer left Guernsey from St Martin's Point at about 02:00 BST but six hours into his swim had to be pulled from the water.
He has since been released from Jersey's General Hospital and a friend, who was on a guard boat, said he was a little confused but otherwise fine.
It is the third time Mr Faudemer, who is from Jersey, has attempted the swim.
Last year, he was within 500m of completing the challenge but had to pull out because of the weather and an attempt early this month was cancelled before he set off due to the conditions.
Mr Faudemer, who became the first person to swim the 12 miles between Sark and Jersey in 2011, was hoping to become the first man to complete the swim between Guernsey and Jersey.
The swim was last completed by Ruth Oldham, who took about 15 hours to swim the 18 miles in 1962.