Guernsey alcohol free zones could be extended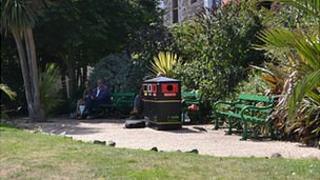 Alcohol free zones could be extended in St Peter Port after complaints about the behaviour of daytime drinkers.
Guernsey Police said local businesses have complained about the noise and behaviour of some people drinking on the North Plantation.
It follows the introduction of a no drinking zone at the Crown Pier.
Inspector Karl Zierlinger said an alcohol free zone was being considered, which could deter or displace daytime drinkers from the area.
John Hodges, who drinks on the North Plantation, said: "Being sat here and nearly every bench being taken up by drinkers, friends or associates...it gives very little space in this whole area for tourists to come and sit down.
"Where we were on a shingle beach next to a toilets, really we weren't causing any trouble."
'Threat to ambience'
Andrew Calmic, manager at Christies restaurant which has a terrace overlooking the North Plantation, said customers had complained about the noise and language used by some of the drinkers.
Jack Honeybill, from the Town Centre Partnership which was behind a recent refurbishment of the area, said: "It's very sad a small minority are creating this impression, which quite frankly we don't want."
He said those involved in the behaviour were "a threat to the ambience of town" and was concerned if the area was made alcohol free they would just move to other areas refurbished by the group.
Mr Hodges said: "Obviously [tourists] do get a negative view as in any group you get a minority who are swearing and cussing and cursing through alcohol consumption.
"The police do make an effort but they can't be here 24/7."
'Too far away'
The island has no laws preventing drinking outdoors.
There are alcohol free zones in place at La Vallette, the Sunken Gardens and the Crown Pier with the whole of town made alcohol free for the annual Liberation Day celebrations in May.
Police said drinkers had been told there is a seating area at North Beach, overlooking the QE2 Marina, where they can go to drink without disturbing others.
Mr Hodges said: "They have been built purposely for us, but it just seems a little bit too far away and the people who come down here feel it's too far away from the off licence."
He said they preferred the North Plantation as it was close to an off licence and more scenic.