Guernsey-Dinard service to continue, says Aurigny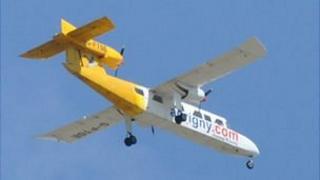 The Guernsey-Dinard route is to continue following a review, airline Aurigny has announced.
It follows claims from a States member that the Dinard and Alderney routes operated by the company are almost entirely responsible for its losses.
Malcolm Coupar, commercial director of the States-owned airline, said: "Half of those on the services are connecting to and from flights to the UK.
"So to look at the route in isolation isn't seeing the whole picture."
He added: "If the Dinard services stopped you'd also lose the connecting passengers."
The company runs return flights six days a week, but said this would reduce from November to just four days a week while it operates a winter schedule.