Aurigny order plane for Gatwick route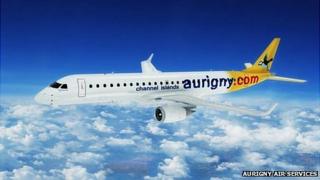 Guernsey's state-owned airline Aurigny has ordered a new plane in a bid to protect a "lifeline route".
Flybe, the only other airline that serves the Guernsey to London Gatwick route, is due to stop its five flights a day in March.
Aurigny expects to take delivery of a 122-seat Embraer 195 jet in the middle of June 2014.
It will join the airline's ATRs, which operate six flights a day to Gatwick, with a capacity of about 70 passengers.
Mark Darby, Aurigny's interim chief executive, said: "I can't really say exactly what the price is, but it is going to be something well below £25m."
The States agreed to guarantee the purchase of the jet at its July meeting and the airline has signed an initial agreement with the Brazilian manufacturer.
'Abandon the route'
Mr Darby said buying, rather than leasing, gave them "the best flexibility, we can get the best terms from the banks and if you buy an aircraft directly from a manufacturer you get an awful lot of support".
He said this included training for pilots, engineers and cabin crew and an on-site technical support team through the first year.
Mr Darby said: "There will be a short gap between when Flybe abandon the route and when we take over. We need a gap because we need to retrain a lot of our crew.
"We'll fill the gap with what's called a wet lease, so we'll bring in another jet aircraft, hopefully something similar to the one we're going to buy, for two or three months."
Jet backup
He said the plane would be "more reliable" and better at landing in poor weather than the airline's current ATR aircraft.
Mr Darby said the airline's oldest ATR, an ATR72-200, would be retained as a backup if there were any technical problems with the jet.
He said the purchase should not impact on fares, which should be "broadly similar to 2012 levels" with some changes due to inflation and fuel costs.
Mr Darby said: "It will be a significant investment for us but it is essential that we replace Flybe's capacity utilising our existing slots on this lifeline route."
Easyjet, which is buying Flybe's Gatwick slots, has yet to reveal if it intends to operate the route from March.