Guernsey Holocaust plaque damage 'racially motivated'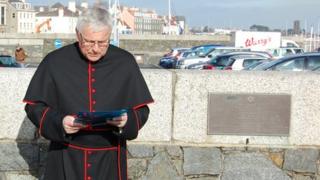 Vandalism to the Holocaust memorial plaque is likely to be racially motivated, the Anglican Dean of Guernsey has said.
The plaque at the White Rock was ripped from its wall on Thursday and was found discarded close by.
Canon Paul Mellor said: "It does smack of a racially motivated, particularly nasty hate crime.
A Guernsey Police spokesman said the motive was unclear but it was one possibility they were looking into.
Canon Mellor said: "The indications are this was premeditated... it's been taken off with a hacksaw."
'Great pity'
A reward of up to £1,000 has been offered by Crimestoppers for information leading to a prosecution and members of the public have offered to add to the reward.
The plaque remembers three Jewish women who were deported to France on 21 April 1942 and later died at Auschwitz.
Marianne Grunfeld was originally from Poland, while Auguste Spitz and Therese Steiner were both born in Austria.
Lauren Lillington, a member of the island's Jewish community, said: "It's a great pity.
"It was a really sad time in history for Guernsey and for those poor Jewish people and all the people who were interned.
"The plaque is a sign of respect and memorial and to remind us we must never let it happen again."
'Totally stunned'
Canon Mellor said: "Of all memorials to target this one is particularly poignant and significant one, it commemorates people who suffered because of the worst excesses of human behaviour.
"For this to happen is another example of just how awful we can be."
He said: "People in general have just been totally stunned by the action.
"A typical reaction is shock this could happen in Guernsey of all places, that suffered through the Occupation, the deportation and evacuations."
A spokesman for the culture and leisure department, which is responsible for the island's historic sites, said he was "disappointed and disgusted by the mindless and pointless damage done to this memorial".
He said the plaque had been retained by police as evidence but would then be assessed for repair work, which would probably be carried out by specialists in the UK.
The aim was to have the plaque restored and back in position before Holocaust Memorial Day on 27 January, he added.