Guernsey Electricity makes £3.4m loss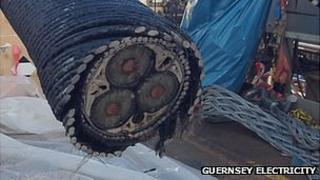 Generating power instead of importing it has been blamed for Guernsey Electricity making a £3.4m loss.
The company reported the loss for its financial year from March 2012 to March 2013, compared with a £4.7m profit in the previous 12 months.
Breaks in the undersea cables between Guernsey, Jersey and France have led to limits on how much can be imported.
Alan Bates, managing director, said improving import security would return the States-owned company to profit.
He said the problems with the undersea cables had been the "most challenging in recent history" for the company.
The cable between Guernsey and Jersey broke in April 2012 and was repaired in October at a cost of £8m, which the company said was "substantially covered by insurance".
At the same time, one of the two cables between Jersey and France failed and repair was found to be "economically unviable", so imports were limited.
The company has spent £14m on a medium-speed diesel generator, which was delivered in September but has yet to be fully installed.
It has also invested £30m in the Channel Islands Electricity Grid for the building of a third cable between Jersey and France, and the replacement of the cable that has completely failed.
Mr Bates said the aim was to have the ability to import 90% of the island's demand.
He said: "While the generators at the power station enabled us to keep up a reliable service, using them is a more expensive proposition.
"A price increase of 9% was necessary to offset some of the increased costs, however, it was decided not to pass on the full impact of additional costs to our customers and we have therefore incurred an operational loss for the financial year."
In the last financial year the company imported 28% of the island's electricity through the cable network, compared to 82% the previous year.
Mr Bates said producing more electricity on-island had cost the company an extra £12.2m.
Due to the loss the company will not be paying a dividend to the States, having paid £484,000 last year.
The company also reported its pension liability has increased from £13.3m to £15.2m.