Guernsey Water treatment project completed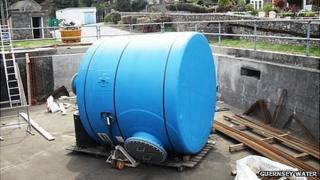 A £1.1m upgrade has doubled the amount of drinking water produced by one of Guernsey's water treatment plants.
The Kings Mills plant, in the Castel, was built in the 1930s and is used as a backup for the main plants at St Saviour's Reservoir and Longue Hougue.
A Guernsey Water spokesman said the plant could now provide nine million litres of drinking water a day.
The 18-month project also changed the manually operated plant into a fully automated one.
'Jeopardising supply'
Andrew Redhead, director of water services, said: "It was important for us to upgrade our Kings Mills plant in order to have three modern treatment works capable of producing consistent, high-quality water.
"It will also allow us to take one of the other treatment plants out of circulation when we need to carry out essential maintenance works, without jeopardising the island's drinking water supply."
The spokesman said the work involved replacing the pumps, installing mechanical screens to remove debris from the incoming raw water, new chemical transfer and dosing facilities, re-lining of the clean water tanks and connection to the remote monitoring system.
He said the £1.1m cost was a fraction of the price of a new treatment plant.
The Longue Hougue plant, which was completed in 2009, cost just under £5m.