Guernsey States property report heavily criticised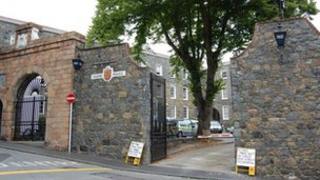 A report suggesting the States should combine services and sell off some buildings has been heavily criticised.
The Policy Council's report suggested the sale of buildings including the police and fire stations may raise £18m.
Some deputies described it as "badly written and lacking in detail".
A move to change the proposals so the report will have to be revisited was approved, but debate on the overall report was deferred until September.
Guernsey States is the largest owner of land and property in the island.
Deputy Matt Fallaize, who led the move for the report to be rewritten, said he supported the idea of the report and the push to save money but there was "a lack of adequate information".
'Difficult to read'
He said disagreement amongst the Policy Council, which is made up of the 10 departmental ministers and the chief minster, also shook his confidence in the report.
Deputy Fallaize said: "There is a difference between change and progress, this policy letter might represent change but there is no justification in it that it represents progress."
Chief Minister Peter Harwood said bringing services such as social security, housing and income tax into one building would make it easier for members of the public to communicate with the States.
He urged States members to vote in favour of the principles of the report.
Deputy Andrew Le Lievre said: "Without doubt this is one of the most disjointed, most difficult to read, difficult to get to grips with and therefore difficult to understand policy letters I've ever had the misfortune to read."