Guernsey States agrees loan for Aurigny plane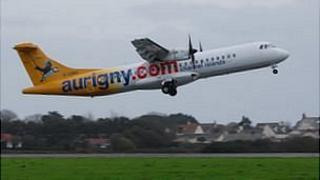 Aurigny can have a loan to buy new planes guaranteed by the States of Guernsey, politicians have agreed.
The States-owned airline could be the only operator on the Guernsey to Gatwick route when Flybe pulls out in March.
To increase capacity on the route, the Treasury and Resources Department asked for permission to guarantee a loan for the purchase of new planes.
It was passed on the condition the loan is agreed within a year.
A change to make it clear the loan could be for the purchase or lease of more than one aircraft was also passed.
A call for any planes purchased or leased to be used on just the Guernsey-Gatwick route was lost, meaning aircraft could be brought for another route to free up planes for the London connection.
The approval of the guarantee will be decided by the Treasury and Resources Department.
The department already guarantees a £14.9m loan for the purchase of two ATR72-500 aircraft and a £7.8m loan for Cabernet Limited, which is the holding company of the Aurigny Group comprised of the airline and Anglo Normandy Engineering.