Guernsey living wage demanded by minister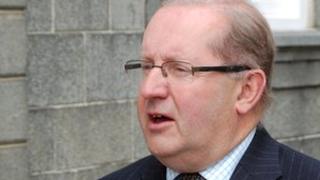 It is essential the States explore the possibility of introducing a living wage according to Guernsey's social security minister.
The States are due to debate changes to the minimum wage rate next week.
Deputy Allister Langlois believes the States could save money if they introduced a living wage.
He said the hourly rate would be calculated annually based on a basic standard of living and would benefit islanders in the future.
Business subsidy
He said the measure could help reduce the amount of social security benefits paid out to islanders on the minimum wage who still require help from the States to live.
Deputy Langlois said: "What we have got to look at and be careful about is that we are not here to control the economy.
"There are some businesses that pay the minimum wage and make an excessive profit out of it, but there are others that pay it and struggle.
"If your business survives on paying very low wages then you have to ask if that really is a viable business."
He said the issue of employers paying minimum wage and then the States paying a social security top up to the employee was that it meant the States were effectively subsidising that business.
In May Jersey's government agreed to investigate the introduction of a voluntary living wage.