Guernsey Post wants WWI material for stamp collection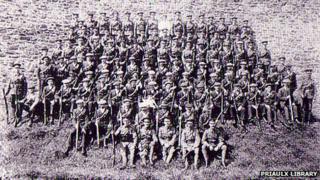 Guernsey Post has launched an appeal to find World War I memorabilia for a five-year "Great War" stamp series.
The first issue in the series will be available from October 2013 and it will run until 2018.
Dawn Gallienne, head of the philatelic bureau, said it hoped people would come forward with find letters, trench art, medals and photographs.
She said it had items for use on the stamps, but hoped what came forward would help tell personal stories.
Ms Gallienne said: "These might be letters which were sent home during the war, trench art, military photographs of family members or friends who fought in the war or even material like ration books, decorations and medals.
"It would be wonderful to be able to unearth other materials which can be incorporated into our commemorative stamp issues."
She said information had been found about the formation and actions of the Royal Guernsey Light Infantry and of Guernsey women decorated for their war work.
"Records also show that a Guernsey Prisoner of War received a personal letter from King George V," she added.