Guernsey's West Show celebrates 100th anniversary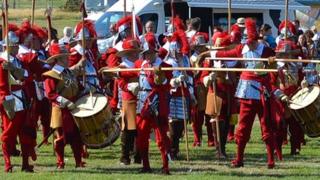 A ceremonial guard of honour and a parade of 100 tractors have helped celebrate the 100th anniversary of Guernsey's West Show.
The guard came from the Lord Mayor of the City of London's Honourable Artillery Company and featured 40 ex-military men with pikestaffs.
The event, which opened to the public on Wednesday, also featured a cavalcade of islanders in traditional costume.
Organiser Stan Bichard said the show had taken three years of planning.
David De Lisle, a deputy for the western parishes and a committee member of the West United Agricultural and Horticultural Society, said: "It's a very exciting time for everyone - the big kids as well as the small kids."
Secretary for the West Show, Michael Best, said a guard of honour from what is the oldest regiment in the British Army had not been seen in Guernsey since the culmination of the English Civil War.
The royalist Honourable Artillery Company had then been allowed to march from St Peter Port's Castle Cornet when the citadel became the last stronghold in the British Isles to fall to the parliamentarians.
More modern entertainments included a high-diving display by the Shark Water Show from France, a motorcycle display and live music performances.