Guernsey coast road at Perelle reopens after repairs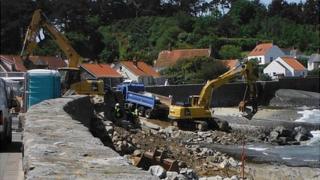 Part of Guernsey's coast road, damaged in a storm last year, has reopened after repairs to the road and sea wall.
The wall was partially destroyed and a 10m (33ft) section of the road washed away by waves during a 9.9m (32.5ft) high tide on 17 October.
An Environment Department spokesman said the repairs were completed ahead of schedule and within budget.
The work, undertaken by Jersey company Brenwal, started on 10 June and had been expected to take eight weeks.
Environment Minister Roger Domaille said he was "delighted that the works have been completed early" and that the coast road was open in time for the school holidays.
He said: "The weather conditions over the last three weeks have been close to ideal and the contract has gone very well.
"We would also like to thank the nearby traders and residents for their patience and co-operation since last October."
The work involved rebuilding a 7m (23ft) section of the wall with fibre reinforced concrete and a granite facing.
After the breach the base of the wall was found to be exposed to undermining, so a 50m (164ft) section of large granite boulders were placed on the seaward side of the wall to prevent further problems.
Stream water, which previously flowed out from the base of the wall at the culvert has also been diverted.