Guernsey car park suffering from subsidence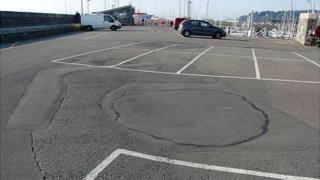 The Salerie car park in St Peter Port is experiencing subsidence according to Guernsey's Public Services Department.
A number of repairs have been made to the tarmac surface recently including filling in a hole in one of the parking spaces.
The car park was built on reclaimed land 20 years ago and a spokesman said this made it vulnerable.
He dismissed concerns it would get worse but said it would be closely monitored.
The spokesman said the tide washed away some of the fine materials under the tarmac, which caused the hole.