Guernsey Brothers' Cemetery work allowed to restart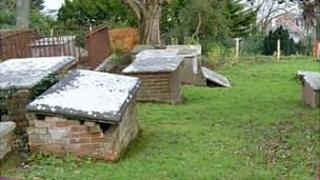 Work to restore Brothers' Cemetery will continue after permission was given by Guernsey's Ecclesiastical Court.
Work to tidy up the plot began last year with an archaeological survey of the site.
It was stopped earlier this month over concerns repairs to tombs had gone further than had been agreed with Church of England representatives.
The court granted a faculty, which sets out the guidelines about what work can be carried out on Church ground.
The court's commissary, the Very Reverend Canon Paul Mellor, said: "It means any proposal for work is very publically notified so people are aware of what is going on and can make representations before or against the work.
"It's an important part of looking after the historical heritage of the island."
Five written submissions were made to the court and all were in favour of the work.
In addition, St Peter Port parishioner Iain Timms asked if the descendents of those buried in the cemetery could be traced and asked to contribute financially towards the work.
St Peter Port Constable, Dennis Le Moignan, said there were no current plans for parish funds to be used in the restoration work, although it supported reopening the area to the public.
Dr Philip de Jersey, the States Archaeologist and leader of the volunteers, stated fundraising for equipment to conduct the work was already underway.
"Both sides have been working towards the same aim, we had slightly different ideas about how we should get there... [now] we'll work together to get the best result for the cemetery," he said.