Aurigny Guernsey-Gatwick route 'needs new plane'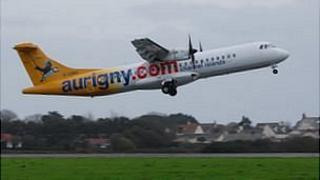 Airline Aurigny would need to buy another plane to become the sole operator on the Guernsey-Gatwick route.
The States-owned airline is currently looking into buying or leasing one.
Guernsey's Treasury and Resources Department has asked the States for permission to guarantee a loan or lease for the airline.
Flybe, the other carrier on the route, announced it would stop flying the route from 29 March 2014 after agreeing to sell its Gatwick slots to Easyjet.
The security of links between the island and London was one of the main reasons behind the States' purchase of the Aurigny Group in 2003.
By the end of 2012 the airline had made accumulated losses of £12.5m.
Treasury and Resources Minister Gavin St Pier said: "Aurigny is already the market leader on the Gatwick route, carrying just under 200,000 passengers last year.
"However, whilst it does have some current spare capacity, there is no practical way for it to accommodate the 146,000 passengers carried by Flybe in 2012 without expanding its own services.
"Both the department and the airline recognise the strategic importance of the Gatwick route to the island.
"It is essential that there is confidence a good service capable of meeting current demand will be maintained and that passengers can see we are absolutely committed to ensuring this is the case."
A treasury spokesman said the air links were a "major factor in the long-term success" of the island's finance and business services, which generate more than 50% of the island's gross domestic product.
Large jet aircraft
He said the tourism sector was "heavily dependent on air links to London and, in turn, the success of tourism is necessary for the survival of the air links on which business depends".
The options to expand Aurigny's services are the introduction of larger jet aircraft on existing schedules or the operation of smaller turboprops at increased frequencies or a combination of both.
All of these options would require the purchase of new aircraft.
While the airline investigates the options the department has asked the States for permission to guarantee any loans or leases Aurigny might take out or to provide the company with a loan.
A spokesman said this would allow the airline to move quickly to acquire any planes, which could take up to a year to be delivered dependent on whether new or used aircraft are involved and whether an aircraft is purchased outright or leased.
He said the department would have the final say on releasing any funds after approving a business case from the company.
The proposals are due to be debated by the States on 30 July.