Guernsey minister wants £20m sea defence upgrade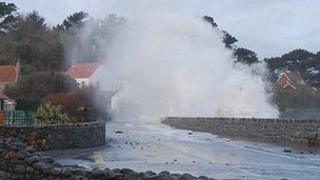 Guernsey's government should commit to a new strategy of protecting the island's coastline, says the environment minister.
More than £1.7m is due to be spent on sea defence repairs in 2012 and 2013.
Deputy Roger Domaille wants the States to spend £20m on protecting the islands coastline from flooding.
His department wants to do surveys to find out what defences are needed on Guernsey's East Coast in the coming decades.
Last year consultants Royal Haskoning estimated the island would need to spend £55m on flood defences over the next 30 years.
The Environment Department is asking the States to agree a plan for the work and to increase tidal monitoring.
Deputy Domaille said Guernsey needed to work on a one in 100 year risk of a major event happening.
He said: "We look forward for 20 years, whilst there is climate change, some of the predictions are unsure. We are recommending that in another 10 years we look at the whole thing again.
"We are also recommending the States fund work on two areas, St Sampsons and The Belgrave, to carry out significant work in those areas."
It reported the island's defences, excluding the harbour areas, involved almost 12km (7 miles) of built defences, just over 5km (3 miles) of boulder revetments and 2.7km (1.7 miles) of constructed piers and slipways.
The department allocated £55,000 for repairs in 2012 and £73,000 this year, but since 2008 has has spent more than £2.5m from the capital project budget to repair sea defences.
Deputy Domaille said: "Because this is a one in 100 year event, doesn't mean it will happen in 100 years time, it could happen next year or in 50 years.
"The sea and tides are powerful things and you ignore them at your peril."