Woman taken to hospital after car is driven on to beach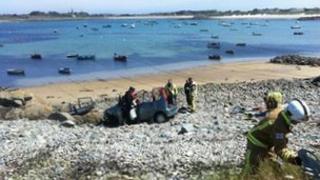 An elderly woman, whose car was driven on to rocks on Guernsey's north-west coast, was taken to hospital after complaining of chest pains.
It is understood her blue five-door hatchback had been parked at Le Grand Havre before heading forward on to the sand and down to rocks by the water.
Some people who saw the car hit the rocks rushed over to give first aid.
Fire and rescue services were called just before 14:00 BST and had to cut the roof from the car to gain access.
The woman was conscious and was able to talk to the emergency services while they were setting her free from the wreckage.
She was put on a stretcher and was taken to the accident and emergency department of the Princess Elizabeth hospital for further treatment.
The emergency services have not named the woman but Guernsey Police earlier confirmed she was a Guernsey resident.
Guernsey Fire and Rescue confirmed the woman was the only person in the car.