Guernsey's Princess Elizabeth Hospital is under review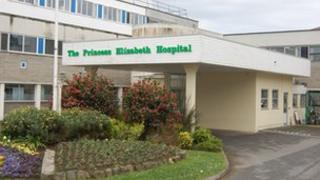 A review of efficiency at Guernsey's Princess Elizabeth Hospital will be released to the public.
The Health and Social Services Department (HSSD) confirmed that £21,600 was spent on the report, which was commissioned in February.
The department has faced criticism for the non-disclosure of previous reports, including a review of the hospital's Accident and Emergency service.
HSSD has to find £3.3m of savings in 2013 as part of an efficiency drive.
The department had originally been due to find £2.3m worth of savings from its £106m budget but it deferred savings that were due to be made in 2012.
A spokeswoman for HSSD said it had already started putting into practice some of the recommendations in the draft version of the new report.
She said these included finding "opportunities for improvement in the day-to-day running of the hospital".