New Guernsey harbour boss focuses on master plan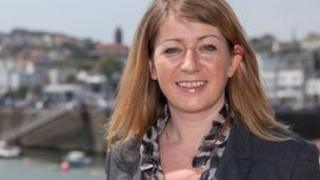 Guernsey's new harbours director says she wants to focus on the Ports master plan.
It sets out the future development of St Peter Port and St Sampson's harbours over the next 25 years.
Sarah McGreevy was appointed to the new harbour director role which was created from changes to the management structure at the ports.
She said she wanted to drive the operational and commercial aspects of the harbours forward.
Mrs McGreevy said the master plan was a strong document that offered a wealth of opportunities and she would be looking at how it can benefit island.
She said the ports offered "a wide range of vital services, and all must be taken into consideration".
Adrian Lewis, chief officer of Public Services, said Mrs McGreevy's appointment was the beginning of a new era for Guernsey Harbours.
He said: "The restructuring is part of a wider strategy to improve efficiency of port operations by allocating responsibility in a more focused way.
"Sarah's commercial background and experience provide the skills we require for this new post and during this period of transformation."