Guernsey bus route disruption to continue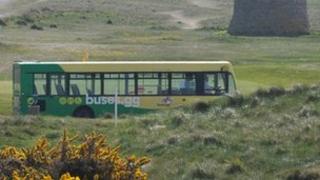 The cancellation of some Guernsey public bus services may continue till late June, the operating firm has said.
CT Plus blamed staff shortages for the cancellation of services on five routes since Monday.
A company spokesman said the cancellations would continue on weekdays next week, but weekends would remain unaffected.
He said they hoped to recruit more drivers and restore a full service before 24 June.
Jon McColl, from parent company HCT Group, said "We are increasingly confident of restoring full services and we are working tirelessly to put the staff in place in time, but will, of course keep the travelling public updated with our progress."
He said the company was exploring every avenue to solve a driver shortage in the short and long term.
The company has launched a bus driver programme aimed at employing island residents.
The routes affected by the cancellations are 11, 21, 41, 42 and 81, which will run a reduced service during the day.
Full details can be found on the Guernsey bus service website.