Warning over threat to honeybees in Channel Islands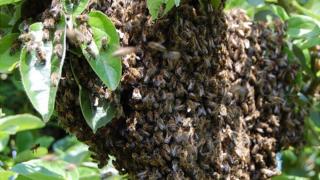 Beekeepers in the Channel Islands are being warned about a threat to their hives from a foreign insect.
The Asian hornet stalks and kills bees and has been known to wipe out entire colonies.
Alf Salmon, a Guernsey States bee inspector, said they were expected to travel to the islands and the UK from France.
He urged islanders to report sightings of the hornets' nests, which are up to a metre tall and hang in trees.
Bob Tompkins, from the Jersey Beekeeping Association, said the honeybee was one of its primary preys.
'Devastating impact'
He said: "[The hornets] look like a very large wasp only with a lot of black and brown on it and very little yellow.
"The bees have got no defence mechanism against these insects at all because they are completely alien.
"There is very little we as bee keepers can do either so the main thing we can do is if found we destroy the nest."
He said it could have a "devastating impact" on the Jersey bee population, which has suffered from a number of diseases in recent years.
Mr Salmon said the hornet was most likely to come into the island on consignments of produce from France, particularly on pallets in which the queens would hibernate.
He said specialised traps had been hung around Guernsey to see if the hornet had made it to the island.
Mr Salmon said they were of no particular danger to the public unless interfered with.
"They do have a sting that is stronger than a wasp and some people do react badly to stings... and there is always the risk of anaphylactic shock," he said.