Guernsey's Cour du Parc tower block plans approved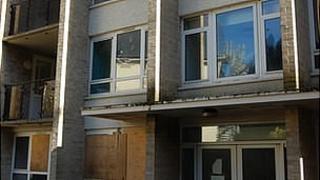 Tenants could be moving into Guernsey's only tower block in September 2014, according to the Guernsey Housing Association.
Steve Williams said planning permission had been granted and the aim was for work to start in August.
He said the "modernisation" should be completed within 13 months.
The 11-storey Cour du Parc building in St Peter Port has been empty since 2011, after it was deemed unsafe and uninhabitable.
The association plans to increase the number flats from 42 to 50 by "making better use of the space".
The one and two-bedroom properties are due to house social tenants and States employees.
A lift shaft and a cladding panel system are due to be added to the outside of the building.