Guernsey shop owner assaulted during robbery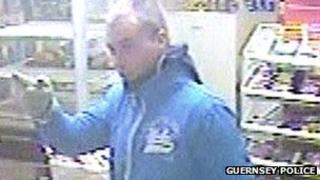 A Guernsey shop owner was assaulted and his cash register stolen during a daylight robbery.
The theft took place shortly before 15:00 GMT on Tuesday at Union Street Stores, in St Peter Port.
A police spokesman said the till was later found at Constitution Steps as was a light blue UCLA jacket worn by the offender.
Police have appealed for anyone who saw a 20-year-old white man wearing a navy blue hooded top and blue joggers.
The shop owner was taken to hospital with head and face injuries, Guernsey Ambulance and Rescue said.
Police would not confirm if the till had been emptied of cash when it was found.
Det Insp Richard Medhurst, from Guernsey Police, said officers had tried to speak to firms in similar premises to give advice and reassurance.
He said they should: "take precautions and be on their guard and, where possible, have more than one member of staff on duty."