Guernsey's night bus service 'doomed' says taxi driver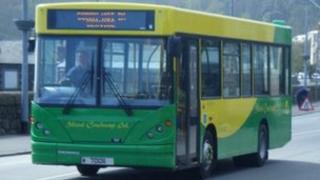 A proposed night bus service is doomed to fail, according to the president of the Guernsey Taxi Federation.
Geoff Savident said the CT Plus plans would damage the earning potential of local taxi drivers at weekends, which is their most lucrative period.
He says a similar night bus service in the 1970s petered out.
The trial plans include new routes and late night buses at weekends. CT Plus said it was responding to people's desire for "choice".
Environment minister, Roger Domaille, said: "With these changes there are winners and there are losers.
"We believe there are more winners than losers and we are expecting an increase in bus usage."
One of the proposals for the new summer timetable would see a number of buses run until 02:00 BST on Friday and Saturday nights.
Mr Savident continued: "Our members are worried we will lose some business through the buses at the start but once they get used to the way it is run and it isn't what they want and can't get to their door, they will come away from it.
"It has been tried before by the previous operator - it didn't work.
"A Friday or Saturday night is when the taxi company makes the money to pay its drivers, during the week there isn't the work out there. This is the crucial time of earning, there is not any other time."
A statement from CT Plus said : "People tell us they would like a choice as to how they get home."
"We believe a that mixed economy of taxis and buses provides that choice.
"It's worth noting that the service is a trial, run on a commercial - rather than subsidised - basis, and will only be maintained if it does indeed meet customers' needs."
A public consultation being carried out by the the Environment Department is due to last for two weeks.