Opening Guernsey schools 'wrong decision'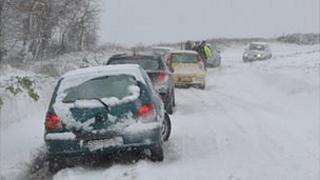 Opening schools on Monday was the "wrong decision", the chief officer of Education Department has admitted.
Just four of the island's schools did not open with the rest starting to close at about 11:00 GMT as heavy snowfall and high winds hit the island.
With bus services also stopping the move led to criticism of the department over the decision.
Jon Buckland said: "I totally understand the frustration, hindsight is a wonderful thing."
He said: "We were monitoring the situation extremely closely over the weekend and we had to base that decision on the information we had at the time.
"We had teams out across the island from 6am reporting back, in close liaison with States Works, the police and the bus transport providers.
"The information we were being given was that in the south of the island conditions were poor, but in the north of the island the road and transport network was fine.
"So we took that decision at 7am and then unfortunately things deteriorated and they deteriorated very quickly."
Mr Buckland said staff reacted as quickly as they could to close the schools and get children home.
He said the criticism was "one of the joys of being a civil servant" as "if we had interpreted the conditions correctly and it was just the south of the island then we would have closed all the schools in the north for no good reason".
Mr Buckland said the department would be reviewing its procedures along with States Works, the police and the bus transport providers as "we can always learn".
All schools in Guernsey and Alderney were closed on Tuesday after heavy snowfall overnight.