Channel Islands' wet weather 'demoralising for farmers'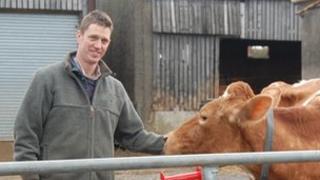 "Wall to wall rain" over several months has been "demoralising", according to the Guernsey Farmers Association.
Dairy farmers have had to keep cattle under cover almost every day since October, spokesman James Watts said.
In addition, a ban on spreading slurry as fertiliser has been in place for more than three months, to avoid run-off contaminating water supplies.
"Conditions are very hard," Charles Le Maistre, the chairman of Jersey's Young Farmers Club, said.
"The farming community has been hit."
Mr Watts said: "It's not just the last three months. Right through the summer it was wetter than normal. It's been really difficult."
Frosts 'excellent'
Mr Watts said milk production had been more expensive during the winter because the nutritional value of forage had been undermined by a lack of sunshine.
"Every year there's something to contend with but this has been exceptional," he said.
More than a metre of rainfall was recorded at Guernsey's airport during 2012, despite an exceptionally dry start to the year.
Although this did not break any records, meteorologists said 2012 was a "one in 20 year event" in terms of rainfall.
Mr Watts said farmers were now desperately hoping for a cold snap.
"As long as there's no snow, a few hard frosts would be excellent," he said.
"As bizarre as it may sound, it dries out the land really well by cracking the soil and it is generally accompanied by very dry easterly winds."