Sark election process was 'open and transparent'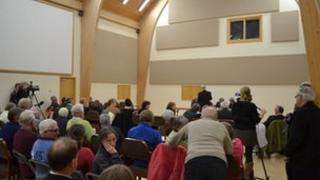 Sark's election observer has concluded last year's poll was "conducted properly with impeccable care".
Sir Norman Browse was invited by the island's government, Chief Pleas, and the Ministry of Justice to fulfil the role for the election on 12 December.
In his report, released earlier, he said: "There was more than ample time and information for voters to make informed political choice."
He also dismissed criticism of the returning officer as "unjustified".
The Seneschal, Lt Col Reg Guille, acted as the returning officer for the election.
'Personal attack'
Kevin Delaney, the editor of the Sark newsletter, complained he had acted inappropriately by talking about the importance of environmental issues in a television interview broadcast the evening before the poll.
Mr Delaney is also a director of Sark Estate Management, which has developed new vineyards around the island. These have been the subject of protests.
Sir Norman revealed in his report that Mr Delaney's advocates had written to him on the issue, "[reserving] the right to call for the election to be set aside and rerun".
However, he said: "I consider that this letter should be ignored as it appears to be an unjustified personal attack on the character of the Seneschal, who has served Sark diligently for many years.
"I can see no way how the private opinions of any citizen of Sark... could have had any effect on the impeccable, scrupulously transparent and unbiased arrangements that were made for the conduct of Sark's recent elections."
The BBC has approached Mr Delaney and Lt Col Guille for comment but neither were available.
The election saw a turnout of 77.5%, with 14 of Chief Pleas' 28 conseillers elected for four-year terms.