Guernsey museums service sees fewer visitors to sites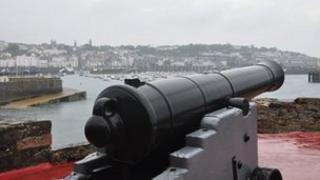 The number of people visiting some of Guernsey's key tourist sites dropped by 7.6% in 2012, compared to 2011.
Dr Jason Monaghan, the director of heritage services, said the fall from just over 82,200 to 76,000 was partly due to the weather and London 2012.
"August was the month that let us down," he said. "The Olympics [25 July-12 August] were a lot to blame."
Other factors included the closure of the Telephone Museum and moving theatre performances away from Castle Cornet.
Vale Castle hosted the summer outdoor theatre events while work to repair the approach to Castle Cornet was undertaken.
Heritage pass
The figures relate to the three main sites operated by the Guernsey museums service.
These are Castle Cornet, the Guernsey Museum and Art Gallery at Candie and Fort Grey on the west coast.
Dr Monaghan said a survey had shown only 10% of visitors to Castle Cornet were island residents, as opposed to tourists.
In contrast, 25% of visitors to the museum were local.
"It's nearly £10 to go into Castle Cornet - for an adult - and people have to spend a whole day there, really, to get value," he said.
"A lot of people haven't got a whole day just to indulge in going to the castle."
He said he hoped a new heritage pass would persuade resident families to visit the sites more often, where they would find exhibitions changing frequently.