Guernsey coast road undergoes more temporary repairs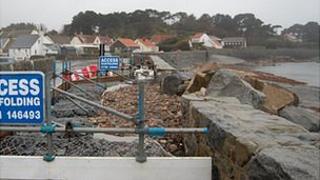 Further temporary repairs have been made to a hole in Guernsey's west coast sea defences, after initial repairs were weakened by waves.
Boulders were taken from Longue Hougue in St Sampson to shore up the sea wall at Perelle, St Saviour.
A 10m (33ft) section of the road was washed away by a 9.9m (32ft) tide and strong winds in October last year.
More permanent repairs are scheduled to be carried out in May, for which the States has gone out to tender.
Jenny Giles, the project's engineer, said: "A lot of the walls are very old."
"It's very difficult to say whether there are going to be any future events such as this," she said.
A coastal defence study by consultants Royal Haskoning, published in August, recommended the States spend £50m in the next 20 years, to avoid significant flooding.