St Peter Port harbour crane demolition begins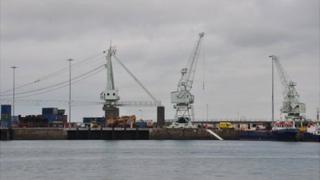 The demolition of two of the main cranes at Guernsey's St Peter Port harbour has begun as part of a £13.8m refurbishment project.
The work involves replacing four of the five current cranes with two mobile units, the first of which is due to arrive at the end of January.
It follows the completion of work to repair and reinforce the harbour berth.
The second new crane is due to be installed after similar work on the other freight handling berth.
This will only start after the first mobile crane begins operating to ensure freight can still be transferred to and from the shore throughout the project.
40 years old
Captain Peter Gill, harbour master, said: "Maintaining essential harbour activities while large sections of the existing facilities are effectively out of commission presents a number of challenges."
Out of the goods imported into or exported from the island 98% pass through the harbours, which equals about 50,000 tonnes of freight a year.
The two cranes being demolished are both more than 40 years old, one built in 1971 is capable of lifting up to 32 tonnes and the other, which can lift up to seven tonnes, was installed in 1965.
The crane that is not being removed during the project, which has been in use since 1946, mainly serves shipping from Sark and Alderney and will be refurbished during the work.