Guernsey music festival 'on hold', says organisers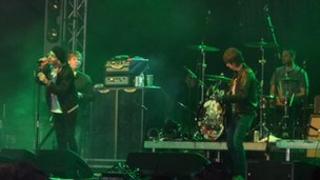 Guernsey's largest music festival will not be taking place in 2013, organisers have announced.
The Guernsey Festival took place in 2011 and 2012, and featured headline acts such as Primal Scream, Macy Gray and the Kaiser Chiefs.
Organisers Jon and Paul Stephen said the event had been put "on hold" due to being unable to secure a sponsor.
The pair said: "It is hugely disappointing that we are unable to stage a festival in 2013."
They added: "We have no doubt that a festival with big name acts can work in Guernsey, but it can only work with the unwavering support of the local community, business and media."
The event attracted an audience of about 7,000 in 2012, but had been criticised by some residents over its noise levels.