Guernsey's Footes Lane 'has to be upgraded'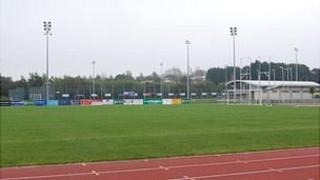 Guernsey Football Club could face relegation from the Combined Counties Premier Division if its Footes Lane home is not upgraded.
The Football Association requires pitches at non-league pyramid step five level to have a perimeter fence around them.
The Culture and Leisure Department, which owns the ground, has applied for planning permission for the fence.
A consultation on the plans is due to run until 28 December.
Steve Dewsnip, Guernsey FC chairman, said they hoped to make other improvements as well.
He said: "We need to put in a couple of turnstiles... This will make it look and feel more like a football stadium than it currently is.
"We see it improving and enhancing the supporters' experience rather than anything else."