Sark Election 2012: Two conseillers lose seats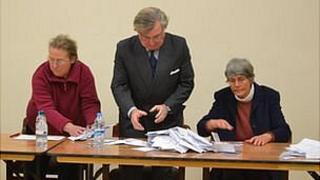 Two sitting conseillers lost their seats as 14 members of Sark's Chief Pleas were elected.
Simon Higgins and Stephen Taylor were among 12 conseillers seeking re-election, but both failed to get enough votes to return to the government.
Karen Adams, Robert Cottle, Margaret Mallinson and Michael Mann were the four non-sitting members elected.
Three women topped the poll, Sandra Williams with 244 votes, Hazel Fry with 226 and Ms Adams with 219.
There are 28 conseillers in Chief Pleas, with elections held for half of the government every two years.
The turnout was slightly down on previous elections as 344, or 77.5%, of the 444 who signed up to the electoral roll voted out of the island's 600-strong population.
This compares with 87.3% in the island's first fully democratic election in 2008 and 79.6% in 2010.
Only the 2011 by-election for four seats had a lower turnout with 74% of those on the role.
No spoiled votes or blank papers