Joseph Manning 'died instantly' in crash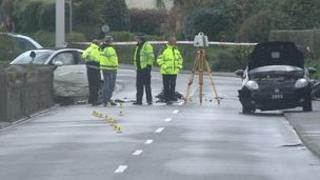 Joseph Manning died instantly in a motorbike crash in Guernsey, an inquest has heard.
The 18-year-old was killed after suffering neck, chest and abdominal injuries in the crash on Forest Road on 5 December.
States pathologist Dr Catherine Chinyama said Mr Manning died instantly from the serious injuries resulting from the impact.
The inquest was adjourned pending further police inquiries.
Mr Manning was riding his motorbike from his family home to his workplace in St Peter Port, the inquest was told.
His journey took him along Forest Road, where he overtook a bus that had just moved having picked up passengers from a stop opposite Le Chene Hotel.
About this time a Fiat 500 was turning into a driveway when it was struck by the motorbike and Mr Manning was thrown over the car and collided with a Fiat Punto that was behind.
Judge Phil Robey expressed his deep sympathy for the family as he released the body to allow a funeral to take place.