Island police recruits have passing out parade in Guernsey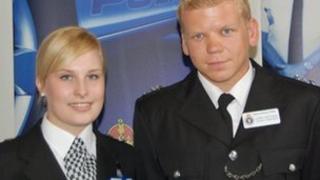 New police recruits from the Channel Islands are having their passing out parade in Guernsey for the first time.
Six new officers from Guernsey and five from Jersey paraded in front of an audience at Government House.
The audience included Guernsey's Lieutenant Governor Air Marshal Peter Walker and both island's Chief Police Officers.
It is the first time a joint ceremony has been held in Guernsey, Jersey hosted the last event in 2011.
The students have been learning vital policing skills before being sworn in as Police Constables in their respective islands.
Under a new arrangement Guernsey and Jersey are taking it in turns to run the initial course.
Guernsey Chief of Police Patrick Rice said it was part of a wider plan to share expertise with Jersey.