Guernsey Airport reopens after planned closure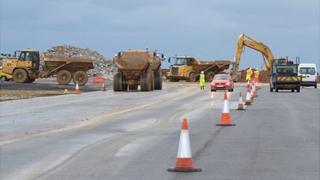 Guernsey Airport has reopened after a two day closure to allow uninterrupted work on the runway.
The work on the western runway and taxiway was part of an £80m airfield refurbishment project.
Airport director Colin Le Ray said the contractors working on the project were busy up to the last minute so the airport could reopen.
He said all future work on the airfield would be done at night so no further closures would be required.
During the closure a 20m (66ft) strip of runway was laid to connect to a new 120m (394ft) section built at the western end of the current runway.
'Tight handover'
The taxiway, which is used by planes to access the runway, was also extended and rebuilt.
Passengers are being warned that check in could take longer after two days without flights.
Mr Le Ray said: "The airfield was handed back to us just before quarter past six this morning, it was a very tight handover.
"If you are on a later flight I would ask that you check in as early as you can and be a little bit patient. We do have extra staff on duty in security today."
Work on the two-year project began in February.