Guernsey ambulance review 'will show States funding need'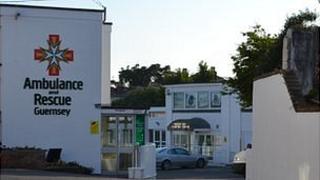 An independent review of Guernsey's ambulance service will highlight the need for more government funding, the service's chief officer has said.
The States has gone out to tender for someone to carry out the review.
The service is currently funded by a States grant, an ambulance subscription scheme and charging those who use it.
Jon Beausire, chief officer for the ambulance service, said the level of grant was "slightly higher" in similar public/private partnerships in the UK.
The service has previously warned it had been using up its cash reserves to make up the shortfall since 2004.
In 2011 it reported the service cost £3.8m to run, while it had an income of £3.1m including charges and donations.
The running of the ambulance service is based on a service level agreement signed between the charitable company and the Health and Social Services Department, which is due to be reviewed in the future.