Guernsey Airport final project closure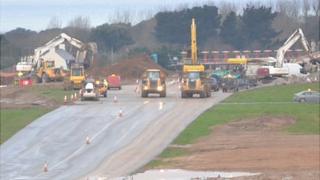 Guernsey Airport has closed for two days, in what is due to be the final planned closure during an £80m airfield refurbishment project.
The airport closed at 21:35 GMT and is due to reopen at 06:30 on Thursday.
During the closure a 20m (66ft) strip of runway is set to be laid to connect to a new 120m (394ft) section built at the western end of the current runway.
The taxiway, which is used by planes to access the runway, will also be extended and rebuilt.
The £80m project aims to equip the runway to last until 2040 and includes the installation of new ground lighting and navigational aids.
As part of the repositioning of the runway to the west by 120m the approach lights to the east and west of the airport will also move.
Longer safety areas are being created at both ends, which involved the closure of La Mare Road, and a new drainage system is being installed.
Work on the two-year project began in February.
The previous two-day closures were in March, May and November.