Public Services changes plastic recycling in Guernsey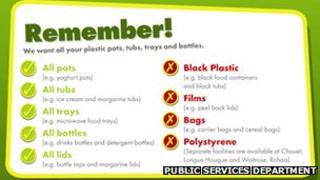 A move to simplify the recycling of plastic in Guernsey has been announced by the Public Services Department.
The department has altered its policy on the collection of plastic, allowing most types of packaging to be deposited at the island's bring banks.
Previously, plastic marked with a 1, 2, 5 or 6 was accepted. Now all plastic packaging except black items, thin films and polystyrene are allowed.
The department said the move would help to collect more plastic for recycling.
Deputy Scott Ogier, Deputy Minister for Public Services, said: "The message for islanders is very simple: unless it is one of these items, we want whatever household plastic packaging you have."
He added the exceptions were in place to stop recyclable material becoming contaminated by non-recyclables.
The change to regulations has been put in place partly due to confusion caused by unclear packaging.
The Public Services Department said the numbers printed on plastic packaging were often unclear or too small to read.