Call to tarmac Alderney runways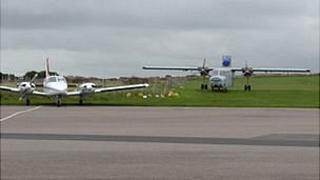 Businesses have urged Guernsey's Public Services Department to resurface Alderney Airport's two grass runways with tarmac.
Alderney's Chamber of Commerce also wants the main runway, which is tarmac, to be extended.
The shorter of the two grass runways was closed in September after concerns from the Civil Aviation Authority.
The department said it was currently examining the future of the runways and was speaking with interested parties.
Andrew Eggleston, president of the Alderney Chamber of Commerce, said the grass runways were vital for the year round operation of the airport, which was important for the island's economy.
He said: "A prime example was last week when we had no flying in Alderney for the entire day due to cross winds and we were unable to use the short runway."
Public Services Minister Paul Luxon said the short grass runway was currently only temporarily closed.
He said: "It's closed pending a decision on whether or not the investment in rectifying the issues that need to be resolved can be found."
Mr Eggleston said the chance to upgrade the runways "could be a great opportunity to better the entire economy in Alderney".
Deputy Luxon said: "I don't disagree with the principle, but the issue is what Alderney, and I think Guernsey in terms of its relationship with Alderney has to do, is find ways to stimulate Alderney's economy."
He said: "Passenger arrival numbers have been falling, to give an indication Alderney Airport used to operate at a deficit of circa half a million, which is clearly not ideal.
"It has now deteriorated to a loss of £750,000 a year and it's getting worse as passenger numbers are now the lowest they've been in recorded history over modern times."
Guernsey has been responsible for the upkeep of the Alderney Airport since the signing of the 1948 agreement.