St Peter Port access ramp opens in Guernsey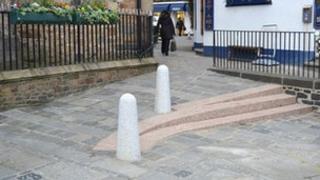 An access ramp in St Peter Port was officially opened after 10 years of planning and discussions.
The ramp, which links Church Square and the seafront, has been paid for by St Peter Port parish.
Plans were submitted in 2008, 2010, and 2011, and the work to construct the ramp between the church and the Albion pub cost the parish more than £12,000.
Peter Falla, a St Peter Port Douzenier, said the ramp would open up new parts of the town for some islanders.