Guernsey Electricity generator to be tested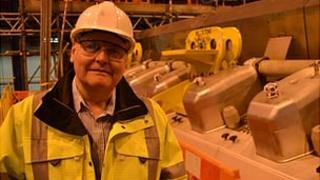 Guernsey Electricity's new £14m generator will be tested at full capacity for a month before it is connected to the electricity grid.
The installation of the 360-tonne oil-fired generator is due to be completed early in the new year.
Tom Woodford, project manager for Guernsey Electricity, said the test would ensure it was reliable, efficient and met all their requirements.
He said the major components were in place and connection work had begun.
Mr Woodford said the project had involved installing about 4km (2.5 miles) of pipe work and about 20km (12.4 miles) of cabling.
The generator, which was delivered in September, became the single largest piece of machinery ever brought ashore in the Bailiwick.
It is due to start generating electricity for the island in March.