Guernsey Airport in third planned closure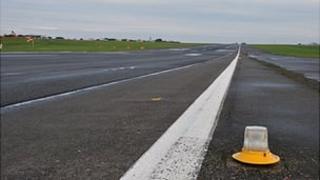 Guernsey Airport has closed for two days for the reconstruction of the runway as part of an £80m refurbishment project.
It closed at 21:30 GMT on Monday and is due to reopen at 06:30 on Thursday.
The work to replace 30m (98ft) of the existing runway with a new strip laid 70cm (2ft) lower, is part of the two-year project.
The work on the remaining 20m (66ft) of runway is due to be completed on the final closure from 3-6 December.
Between the closures a temporary asphalt ramp will be used to return the runway to operational use.
'Limit noise'
Two teams are expected to work round the clock to produce and lay 4,000 tonnes of asphalt during each of the closures.
Gerry Prickett, project manager, said: "For a project on this scale, you are not going to be able to avoid there being some disturbance, but by and large most people appreciate the importance of this work and have been very tolerant and understanding.
"Wherever we can we try to limit the noisiest activities to the daytime, but due to the sheer scale of the works being undertaken during this closure that just is not possible."
During the closure, postal deliveries will be made by helicopter while other mail and the national newspapers will be sent via ship, meaning they will be delayed by 24 hours.
The previous two-day closures were on 20-21 March and 8-9 May.