Guernsey rigid plastic recycling trial hits 40 tonnes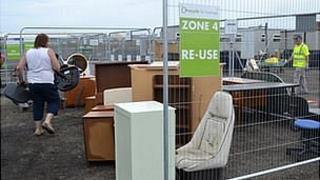 More than 40 tonnes of household plastic has been recycled through a trial scheme at Guernsey's recycling facility at Longue Hougue.
The scheme, officially launched in September, allows rigid plastic items, such as buckets, garden furniture and children's toys to be recycled.
Tina Norman-Ross, States recycling officer, said the 40 tonnes did not include items taken away for reuse.
She said the scheme would continue on a trial basis with no end date set.
Items that cannot be reused are shredded before being sent for reprocessing in the UK.
Only heavily contaminated containers, such as paint pots, can not be recycled.
The scheme has made no change to recycling plastic bottles and food packaging, which can still be dropped off at the bring bank sites.
In 2011, 250 tonnes of household plastic packaging was collected through the bring banks.
The Public Services Department said it expected this would increase by about 20% this year and combined with the trial would see more than 100 extra tonnes of plastic recycled in 2012.