Helicopter used for Guernsey Post while airport shuts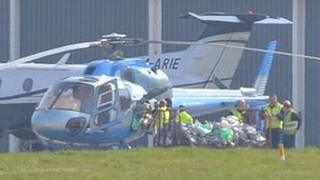 Guernsey postboxes will be emptied at least 30 minutes earlier than normal during the planned airport closures.
Guernsey Airport is due to close on 27-28 November and 4-5 December as part of an £80m refurbishment project.
Guernsey Post has chartered a helicopter to deliver greeting cards and special delivery items to and from the UK.
Other post will be sent by boat and the company warned this would delay deliveries by 24 hours.
Guernsey Post's communications manager, Cassandra Morris, said they were adopting the same system as they had used in the first two planned closures.
She said using the helicopter would not cost customers any extra money, but due to the limited capacity - about half a tonne of post in each trip - special delivery would be subject to availability.
During the closure island-wide collections will be brought forward to 13:00 GMT, with the last Envoy House and Smith Street Post Office collections at 15:00 to ensure mail connects with the UK mail boat.
In Alderney collections will take place at 10:30.