Guernsey police concern over mud on island roads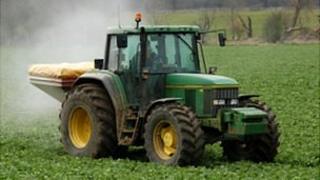 Police could take action if farmers do not clear mud from Guernsey's roads.
Guernsey Police is urging operators of heavy plant and agricultural vehicles to be aware of the problems caused by mud on the roads.
Sgt John Tostevin, from the Road Policing Unit, said the consequences could be dire for drivers.
Farmer Julian Ogier said mud was inevitable at this time of year but added that there were ways to minimise it.
He said: "The thing to do, when working in a field, is not to use the same tracks all the time and speeding up to throw the mud off before going into the road."
Sgt Tostevin said he understood the problems faced by farmers and the need to move machines between fields.
He said: "We are simply asking that any mess left on the road is cleared away as soon as possible.
''This may seem a trivial matter, but the consequences can be dire for drivers and motorcyclists, who can be caught unaware by mud on the road and potentially lose control of their vehicle.
''My advice to all operators of agricultural machines is simple - remember your responsibility and take action."